The George and Frank C. Hirahara Photo Collection of Heart Mountain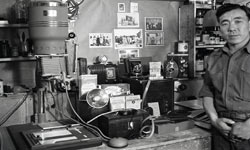 The George and Frank C. Hirahara Photo Collection of Heart Mountain is considered the largest private collection of photos taken at this Wyoming Japanese Relocation Camp during WWII.
Comprised of over 2,000 photos and original black and white negatives taken and processed in George Hirahara's secret darkroom and mini-photo studio basement he built under his barrack apartment 15-9-A, the Father and high school aged son from Yakima, Washington were able to capture camp life, local scenery, engagements and weddings, funerals, high school activities, Obon summer festivities, dances, sports, military, and portraits of the internees.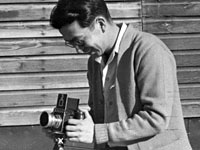 These rare and outstanding photographs were taken with a journalistic style from 1943 – 1945. George's son, Frank, as 1944 Spring ASB Commissioner of General Activities and Photo Editor of the first Heart Mountain High School Tempo Annual, was able to take a behind the scenes look at school activities in coordinating assemblies and activities for the student body. The pair were able to get their photographic equipment and supplies through ordering from the Sears Roebuck catalog with money George Hirahara acquired by working outside camp at farms and for the railroad.
This amazing collection has been donated by Frank Hirahara's daughter, Patti Hirahara, to her father's alma mater of Washington State University in Pullman, Washington where he attended after he graduated from Heart Mountain in 1944. WSU received a National Park Service Japanese American Confinement Sites Grant, in 2011, to digitize and preserve these photos for future generations.

Research Your Family's Internment History
Patti Hirahara has been working tirelessly to identify those featured in the photos. She says it's quite moving when she receives a phone call from someone who thinks they spotted their family member in one of her photos. If you'd like to research your family's history, here's a valuable resource from
The National Archives
. It's a searchable database containing records about Japanese Americans relocated during World War II, documenting the period 1942 – 1946.